If you are like me, buying a new computer is more daunting than buying a new car.  Somehow RAM, gigabytes and processors are more confusing than cylinders, horsepower and a CD player.
Recently my laptop was showing signs of collapse.  A week later Unplggd posted an article about the symptoms of a computer on the brink of terminally crashing. If I had read this article earlier it would have saved me from hard drive brinksmanship.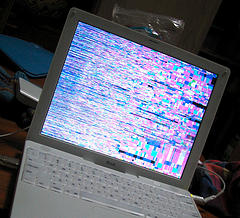 Some of the warning signs are:
Slow start-ups
A jumping cursor
Grinding noise.
Click here to learn "5 small computer signs that mean big trouble."
When technology works, life is wonderful; when it doesn't, you can be left stranded. Be in the know and avoid the stranded part.
Have you had computer crises?  Share them with us and how you solved them.
Photo by "Sampsyo"