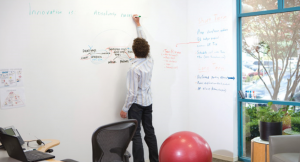 This week, October 3-9 is National Work from Home Week, honoring the people who contribute to our economy and our culture from their home offices. This week The Smarter Home Office will post a blog a day to celebrate this week and to celebrate you.
"Make no small plans. They have no magic to stir humanity's blood

and probably themselves will not be realized.

Make big plans; aim high in hope and work,

remembering that a noble, logical plan once recorded will never die, …Think big."
– Daniel Hudson Burnham, American architect and urban planner. World's Columbian Exposition in Chicago (featured in the novel The Devil in the White City), the Flatiron Building in New York City and Union Station in Washington D.C.
If you are visual like me, you want to write-out your ideas, project timelines or sketch processes and creations. Sometimes a piece of paper is simply not big enough for you. I have discovered a great new product: IdeaPaint. It allows to you make almost any surface into an erasable white board  Picture yourself no longer limited by the boundaries of a pre-made white board – writing or drawing big and being able to step back and see what you have wrought.
Imagine having an entire wall to "think out-loud" on!  You are not limited to plain old white – they have 6 neutrals, a light green and a kickin' orange. An orange wall in your home office – your can do that!
It comes in two versions IdeaPaint CRE-8 for the DIYers among us (with a 10 year warrantee) and IdeaPaint PRO (which has a lifetime guarantee but needs a professional painter to give it the right application.)  One kit covers 50 square feet. The cost is $175-200.  Compare that to $300 and up for an 8'x4' board (32 square feet).
Check out their cool website to learn more and get some great ideas for how you can use IdeaPaint.
Just don't get high on the marker fumes ;-)
For other ways to make your home office and your work life come alive check out The Smarter Home Office (the book)