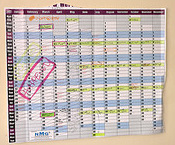 Have you ever wanted to schedule a meeting with colleagues or a get-together with friends, but the emails going back and forth with different dates and different ideas just got too confusing? Too many ideas, loosing track of who said yes to what and when. And boy did I did loose track while busy setting up my book, The Smarter Home Office on Amazon.com
When scheduling a group feels like herding cats and you don't want to share your personal calendar with the world there is a free and simple solution: Doodle.com
I first heard about this in Gina Trapani's book Upgrade Your Life. In 4 steps you will have a customized calendar for your invitees with the dates and times that you want them to vote on for your gathering or event.
Go to Doodle.com: The one that indicates it is for easy scheduling
Click on the tab labeled "Schedule an Event" which will take you to …
Step 1 Set Up Event
Fill in the "Title" of the event (helpful if you are doing more than one event on Doodle.)
Fill in the Description of what this calendar poll is for, when you want the votes in, and a few tips on how to do the survey.
Add you "Name" – I recommend you full name in this world of email overload
And your "Email address"
Click on "Next" for…
Step 2 Select Dates
A calendar will appear on this screen. Simply click on the dates you would like to include in the choices for your group members.
Then click on the "Next" tab at the bottom of the page.
Step 3 Select Times
Select times for group members to vote on.
The dates you have selected will be listed on the left and five boxes for each date will be on the right – you can type in the times you want people to choose from here.
Step 4 Set-Up Links for Emails to Your Invitees
Click on the radio button for "You send the invitation." The other choice: Doodle emailing the invitation for you requires MyDoodle – a fee based service with extra options and without ads.
Once this is done, two emails will be sent to you on with a link for Participants (voters). You will copy and paste this link to a new email with a brief explanation and ask people to add their name to the blank box at the bottom and click on their choice(s) and send it to your invitees – and yourself if you want to vote.
The other email contains an Administrative link which will show you the collated votes. At the bottom of this calendar the votes are totaled. The dates with the highest number of votes will be in bold type.
When the voting has ended, simply tally up the votes and announce the date and time that works for the most people.
Once the date and time are decided on and location or activity needs to be chosen, you can go back to Doodle.com and set up a poll for "Make a Choice:" Such as Coffee Shop A or Coffee Shop B; Movie A or Movie B.
To Avoid Snafus and Extra Work for You
There will be some people who need to change their vote/choices. To avoid getting barraged with random emails asking YOU to change their choices, I encourage you to tell invitees they have the power to change their vote by going back to the link and click on "Edit" under "Functions" below the calendar.
Hold onto either your account number – which Doodle.com generates for you after you complete steps 1-4, or the email with your Administrative Link – so you can quickly see the status of the voting.
State clearly and boldly on the original email when the voting will close and a decision will be made.
Enjoy Doodle, a great tool to simplifying setting up meetings, gatherings and other events.