A bare and boring home office is an unproductive office.
Home office decorating with your favorite art and photos  creates a happy and productive office. If you want to change-up your home office decorating easily and don't want a wall full of nail holes the solution is a sleek and simple cable wire hanging system.
Curbly has an article about a true DIY set-up to mount and hang small photos. (Hat tip to Apartment Therapy.)

If you don't want a Home Depot-look in your office, or don't have the time for a from-scratch picture wire system, then try one of these: IKEA's Dignitet or Umbra's Photoline. Or PBTeen.
The advantage of these systems are:
The kits are complete (except the wall attachment hardware – which allows you to get the screws or bolts that work best for your wall.)
Slimmer and less like raw hardware.
Mounted on a flat wall. (The Curbly system is designed to be mounted on the side walls of a niche.)
Available online.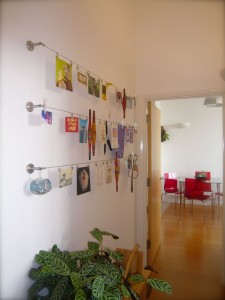 The IKEA Dignitet is a curtain hanging system that has been "hacked" for hanging artwork. It consists of a stainless steel cable and an angled bracket that can be mounted on a flat wall or ceiling. The mounting bracket has a hidden turnbuckle to make the cable taut, giving you clean horizontal lines. It is 55 to 197 inches long (extra support fittings can be ordered online for lengths over 55 inches) and holds a maximum load of 11 pounds or 5 kgs. All for $12.99 on Ikea.com. Twenty-four clips are available for $2.99.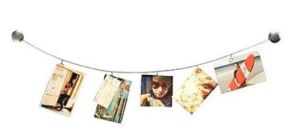 The Umbra Photoline is for images only and has a charming droop, like a clothes-line. It is made of metal wire cable and two nickel finish mounting pieces. Note: it is advertised as being 40 inches long, but in reality it is 32 inches long. It comes with five clips for $9.99 and up.
PBTeen has a system similar to IKEA's for $39-59 which you can use for home office decorating.
You can be creative with different kinds of clips to hold the art to the cable:
Wood clothes pins or clips
Colorful plastic-coated wire or stainless steel clips
Curbly's office supply bulldog clips.
Home office decorating by adding art and inspiration to your home office is easier than you think.

Images by Alttext, IkeaHackers, Umbra
See more about artwork in the home office:
How to personalize your workspace.
Inspire your inner child with children's art.
Your Home Office: Art First, Furniture Second