3 Reasons To Declutter And Organize Your Home Office Files Now, Plus Tips on How
You want to keep your New Year's Resolution to be more organized, and avoid the guilt.
You want to get a headstart on organizing your receipts for tax preparation and avoid the last-minute scramble that overlooks tax breaks you deserve.
This blog has a great home office infographic that shows you the tools, steps and strategies for an efficient and effective file de-cluttering and organizing: Shred, Scan and Store.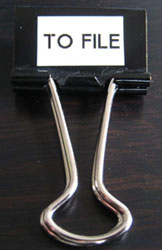 Just like you, I made a resolution to be more organized with:
my work,
my home and
my time.
Getting your paperwork cleared and set-up will help you be more efficient with your time and your home office space.
To have your paperwork organized for easy retrieval when you need it start with the Big Sort and Purge.
This infographic by Erin Rooney Doland and David Foster for Women + Co breaks down the steps to make this task easier:
What tools you need.
What documents you need to keep and what you can discard.
How to dispose of documents securely.
How to store the documents you keep – physically and digitally.
The tools and steps illustrated in the infographic are great, but I have a few suggestions:
If a shredder is not in your budget right now, UPS stores and FedExKinko stores offer secure shredding and disposal for a fee, based on weight.
A small file cabinet is great if you need only a few documents in hard copy. [link] The plastic file cabinet will work if you keep only a minimum of household contracts, guarantees and recent tax files. Here are some tips on how to use and choose the best file cabinet for your needs.
To keep your piles in order as you are sorting use large bulldog clips. Label the clips as shown here.
You WILL need a big space to spread out while you do your paper sorting. Preferably NOT your desk. A large table or undisturbed space on the floor is needed.
If de-cluttering your whole office feels overwhelming, start with one drawer or one pile of papers and repeat with the next drawer or pile. Build in a little reward for yourself – an ounce of dark chocolate (anti-oxidants), a dance break to boogie to your favorite music (no one is looking ;-D) – for every step you take to make your home office and your work life better.

Buy my book The Smarter Home Office: 8 Simple Steps to Increase Your Income, Inspiration and Comfort for more practical ideas on home office storage with advice on the best file cabinets, bookcases and how best you use that jumbled office closet
Hat tip and image by Unclutterer