As an entrepreneur, freelancer or remote worker you may work at home, but when you go out into the world you want your on-the-road business supplies to be grab-and-go ready. I recently wrote about setting up a home office "launch pad" to help you to leave your office stress-free and prepared for your client meeting, networking event or conference with your boss.
My launch pad is an antique school desk, the kind with black steel legs and a round hole for the ink well. My purse, gloves and keys go on top. My folders and folding umbrella go in the shallow shelf below and my consultation bag or LCD projector goes underneath.
Learn 4 ways to make your launch pad functional and fun.
An organized launch pad has:
A location near the door
Space for your purse and/or brief case
A stash of business cards
Your cell phone or cellphone case or charger, depending on use
Laptop or iPad/tablet case.
Here are photos and links to some launch pad storage with links to where you can buy them:

This shelf with two drawers mounted below can hold everything you need for business away from your home office. IKEA $50 – mounting brackets extra.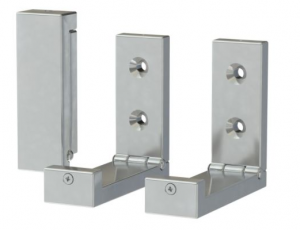 If your launch pad is in tight quarters these sleek folding hooks take up less space  Bjarnum folding hooks  IKEA $10 for a 3-pack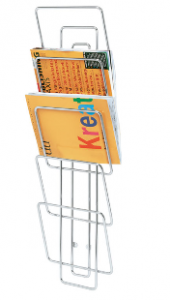 This wall mounted storage will hold all your folders for that important consultation. Lekker $70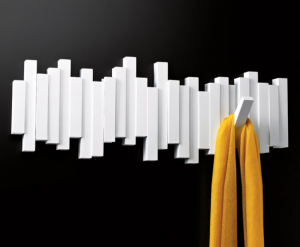 This foldable set of hooks looks like a modern sculpture on your wall. The Container Store $20
How do you organize your launch pad? What do you need with you when you are doing business away from your home office? Share your thoughts in a comment below.
Learn more about how to make your home office work for you.